Welcome to Year 5 2017-2018


Phase Leader

Mr Quilter

Year 5

Teachers

Teaching assistants

Mrs McCarthy (5M)

Mrs Pyman (nee Griffiths) (5G)



Mrs Byford

Mrs Hedgecock

Curriculum information
Curriculum Jigsaw (whole year overview) click here
Useful resources or information






Welcome to Year 5
We have got an action packed term in front of us and can't wait to learn more about the rainforest during this topic. See our curriculum letter to find out what else Year 5 are up to this term…
First week back
The first two days back were packed full of team building exercises. We had a task to build the tallest tower out of 2 pieces of A3 paper. We could win more resources by answering questions given to us by out teacher, these could have been Maths, English or Topic based. The tower had to be self-standing and hold two pieces of multi-link.
Here are some pictures of us completing this task...
Our teachers then asked us to reflect on this activity using our Great Totham learning values – getting stuck in, persevering, learning from our mistakes, taking responsibility and being a problem solver. We thought about which values we did well and which ones we could have improved on. This has now become our target for this term.
Colchester Zoo
At the end of last half term, year five went to Colchester zoo. We had such a brilliant time looking and learning about all of the animals we have been studying as part of our rainforest unit of work. The children had an educational talk during the day, where they consolidated their knowledge of the rainforest and had the opportunity to touch and feel different rainforest materials.
Thursday 9th November 2017
Year 5 Outdoor learning
On Thursday 9th November, Year 5 had their outdoor learning day. Our outdoor educators, Sarah and Paula, came into the school to instruct, organise and supervise the activities performed.
Classes 5M and 5G took turns to do their two hour activities. During the day, both classes experienced time in the school den and out on the school field. Sarah ran activities in the den, we made tortillas and tried Mayan stew and made hot chocolate to fit in with our topic work. Paula taught the classes how to make Mayan headdresses and sculpt clay faces. All of the children thoroughly enjoyed themselves.
At the end of the activities, the children performed a spirited and traditional Mayan dance, which was enjoyed by all who saw or even HEARD it, as there was a lot of chanting involved. Outdoor learning in Year 5 was a HUGE success this year.
By India Scholey and Martha Harvey
Science
This term we have had lots of fun experimenting with the properties of materials and how they change. We have investigated materials that dissolve and have discovered whether the changes are reversible or irreversible.
Here is a picture of our most recent 'Giant's Hand' experiment where we proved that when changes are irreversible a new material is always made.
Music
During our music lessons this term we have been learning how to read and write music whilst also learning more about recorders. We have improved so much this term and have made great progress reading music. We will be continuing to develop this skill next term.
Life-skills
We are learning to be kinder to one another so that we can develop positive relationships and healthy friendships with our peers. Before the end of last term, we watched a video about little acts of kindness and how they can impact on others.
We want to know what acts of kindness you have done, or if someone else's kindness has brightened your day?
We have a board in our classroom where we can recognise our classmates and say how they have been kind. Our hope is that everyone will show an act of kindness, which will then encourage us to pay that kindness forward to someone else…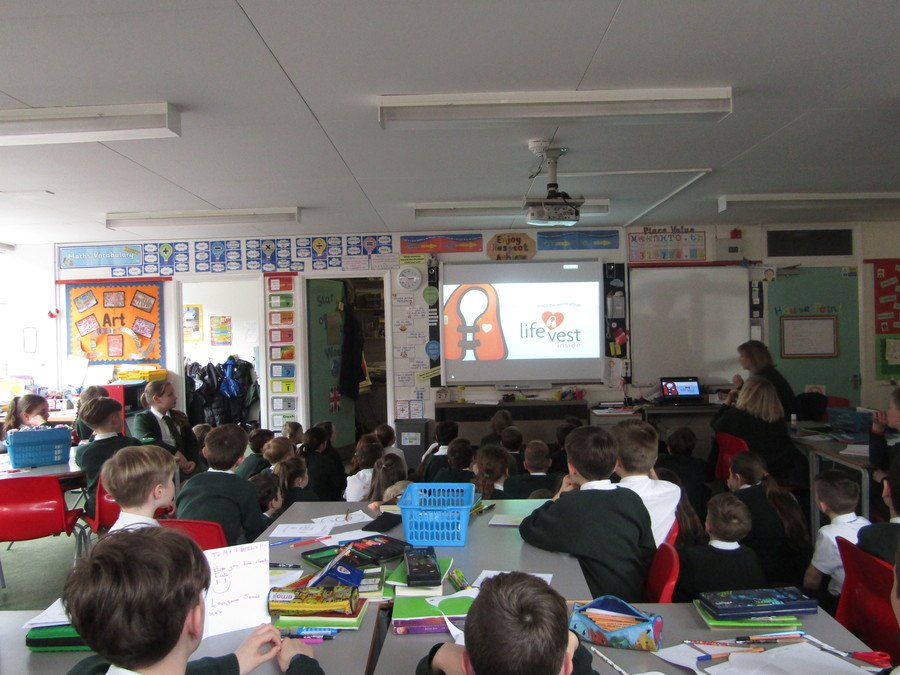 Science
Last week we started getting really excited about our new topic and talked about size and distance of the Sun, Moon and Earth.
We scaled them down and talked about the relative distance between them if the Sun was the size of beach ball, the Earth was the size of a pea and the Moon the size of a small bead. Then we measured the distance out on the field.
Everyone enjoyed this lesson and we are looking forward to finding out more about space!
Maths
Since being back at school we have been investigating shape, focusing mainly on 3D shapes. We have been making nets and investigating if they work and why.
Art
We have some really exciting art projects this term using lots of different media – we will update our blog to reveal what we are doing as the term progresses. We started our unit of work by going out onto the field and sketching. We had to think about our technique and how we could improve next time, as we will be sketching an object from our minds based on our class book 'Phoenix'.