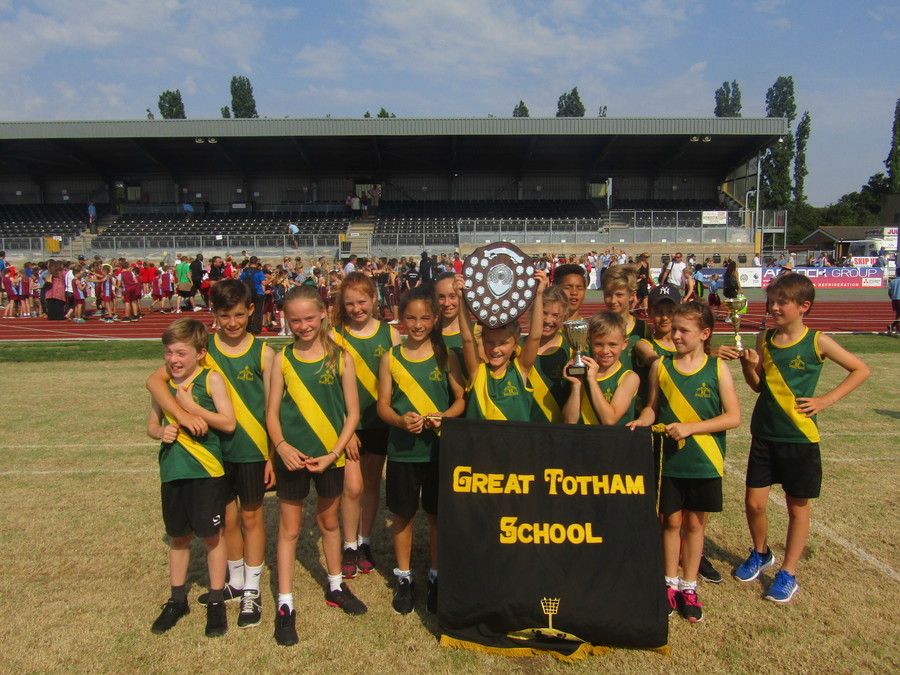 District Sports Success
Across two days, a select few children were lucky enough to compete in both field and track events at Chelmsford Athletics Stadium (Formerly Melbourne Park).
We had much to scream and celebrate about, with lots of children placing in the medals! As a result of the children's excellent sporting ability we were also fortunate enough to pick up some silver ware. Of the three trophies on offer, we managed to win all three. GO GREAT TOTHAM!
Overall Winners Group 1: Great Totham Primary School
Relay Winners Group 1: Great Totham Primary School
Field Events Winners Group 1 : Great Totham Primary School (Shared with Elmwood)
Well done Team Totham. A special mention to AJ Skerritt, who stepped in at the last minute to help the boy's relay team and did a mighty fine job on the second leg and all the parents that supported the team - their voices were immense and really helped the team home.
Please pop back and see the children's placing as we update the site weekly. In the meantime, why not have a look at the lovely pictures we managed to take of the day
The results are in!
Field Events
High Jump:
Fern Hazell-Young 5th
Chriatian Harrison 1st
Long Jump:
Xavier Giles-Scieller 2nd
Amy Cheah 2nd
Throwing:
Will Hayes 4th
Jess Pugh 1st
Track Events
Long Distance 600m:
Jess Pugh 2nd
Oscar Brand 4th
Sprints
Year 3: Jess Laker 5th, Emma De Giorgio 5th, Ethan Webb 1st & Elliot Rose 1st
Year 4: Lily Collings 5th, Brooke Murphy 3rd, Billy Maling 2nd & Jarvis Knight 4th
Year 5: Amy Cheah 1st, Imogen Tooke 1st, AJ Skerritt 1st & Samuel Bruce 1st
Year 6: Evie Crabb 1st, Evie Cousins 3rd, Christian Harrison 1st & Xavier Giles-Scieller 1st
Relay 4 x 100m
Girls: Imogen Tooke, Evie Cousins, Evie Crabb & Amy Cheah 1st
Boys: Samuel Bruce, AJ Skerritt, Oscar Brand & Christian Harrison 1st