School dinners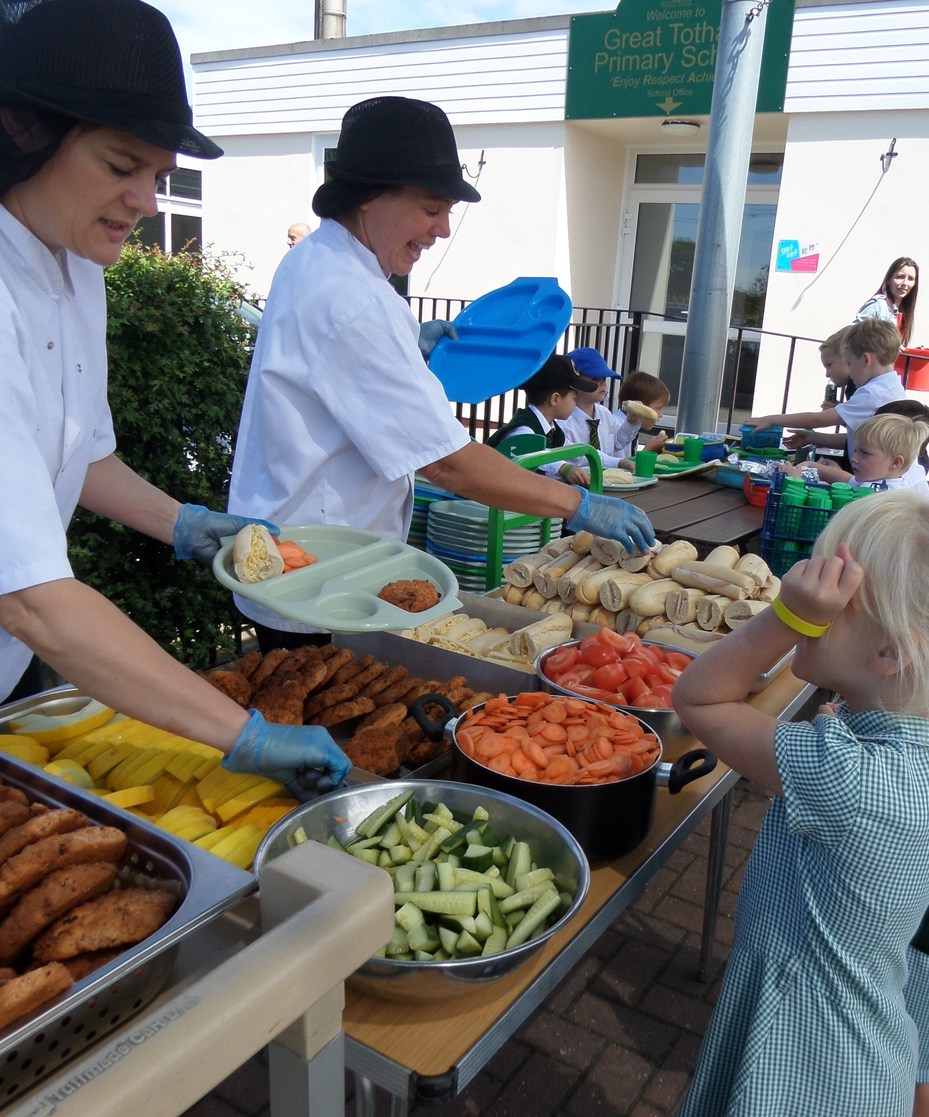 At lunchtime, the children are able to have a school meal or bring their own packed lunch. This is entirely at parents' discretion but please be aware as of September 2014 all Infant children will be entitled to a free school dinner.
Our Catering Manager and her team provide an appetising and nourishing school lunch with a range of different options each day. Our school council helps the catering staff evaluate menu choices and we are always trying to source our foodstuff locally where possible.
The current menu for the school kitchen (4 week menu rotation) shows the daily options available. During morning registration the children are asked for their meal choice and provided with a coloured band. The meals are then cooked to order on site.
During the summer term. a well-balanced, nourishing, meat and vegetarian picnic-style lunches are available as an additional alternative to the plated lunches and salads.
The Catering Manager is always happy to discuss food arrangements with parents, especially if any child has a serious food allergy/specific need.
The school operates a Breakfast Club and after school club from 7.30-8.45 a.m. and from 3.20-5.30 or 6 p.m. Please click to find out more details for The Lodge.
Summer term menu
Please click on the week 1, 2, 3 or 4 document below to view the menu and make your selection for the day!
To comply with legal requirements, please find below allergen advice for each week of our menu;
The new menu for the summer term is attached and will start on Monday 16th April on Week 1. Should the weather be unsuitable for outdoor picnics, the children will eat in the school hall.
The legal requirement is to provide a lunchtime meal that meets the School Food Standards. Daily, pupils are offered three hot meal options or a choice of picnics. For all pupils in Reception, Year 1 and Year 2 lunches remain free. If your child is in KS2 the cost is still only £2.20 per day.
The five colour options are:-
Red: Hot meat option
Grey: Hot vegetarian option
Blue: Jacket potato option
Green: Cheese picnic
Yellow: Cold meat picnic
Each morning the children need to select their colour. It would be very helpful if your child knows which option they would like before they come to school. Once your child has chosen their meal for the day they will not be able to change their mind.
Here are a few recipes you may find fun to cook with your child. Some of them are similar to the ones we cook in school. Please note that may not be the exact recipes we follow in school. If you are concerned about allergen advice for our current menu, take a look at the allergen list published above or phone the school kitchen - we are always very happy to help.
School cookbook - click for recipes.
Baked Spanish risotto

Bakewell crumble slice

Beef Pastitsio

Cheddar, tomato and basil whirl

Chocolate brownie

Chocolate chip cookies

Chocolate cup cakes

Chocolate and mandarin puddle pudding

Crunchy vegetable crumble

Golden vegetable loaf

Lentil spaghetti Bolognese

Melting moments

Pepper and sweetcorn tart

Pork balls with fresh tomato sauce

Savoury mince

Sticky Orange and Honey Cake

Sweetcorn fritter

Raspberry Buns
If you have any queries please contact me on
01621 891091 option 4
Sara Babbs
Catering Manager
You may also want to check following links: