E-safety
Do you know what to do if you see or hear something that makes you feel sad, upset or scared?
Or you can report the issue you have been having to CEOP using the button on the right.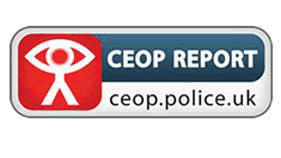 CEOP is part of the police. It helps to keep children safe online. There is lots of advice on their website or you can click the button to report someone who makes you feel sad, upset or uncomfortable when you talk to them online. It's always best to talk to a teacher or adult at home about what's happening too.